Main Menu
選 項
Year 2000
Year 2001
Year 2002
Year 2003
MINUTES OF THE NEW YORK QIN SOCIETY


Date: 19 March 2000
Time: 3:00-7:00PM
Place: Qin Ming Qin Zhai 清明琴齋(Clear & Bright Qin Studio)
Attending: Stephen Dydo, Matthew Flannery, Shida Kuo, Bo Lawergren, Gopal Sukhu, Yuan Jung-Ping
Guests: Ming Flannery
Events: Next meeting: 9 April 2000, 3 PM, at Shida's home. The meeting will include a presentation by Shida of his collection of I-hsing ware and a talk by Matthew on the seal carving of Hu Lunguang.
Gopal will participate in a presentation of the forthcoming book. Defining Chu, at the China Institute 華美協進社, 125 65th Street, Manhattan, Thursday, 6:30-8:00 PM, 30 March 2000. Participants are to be the book's two editors, John Major and Constance Cook, and the authors of two important chapters, Barry Blakely and Gopal. Gopal will discuss " Shamanism, the Nine Songs 九歌, and the LiSao 離騷." Fee: $12.
International Art Fair at the Seventh Regiment Armory, Park Avenue & 67th Street. Bo reports, " It shows the best Chinese antiquities on the current market, many of which are probably to be bought by museums. " 23-29 March 00, day and evenings. Fee: $15 (last year).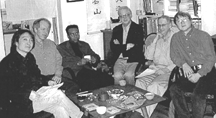 (left to right) Yuan Jung-Ping, Stephen Dydo, Gopal Sukhu, Bo Lawergren, Matthew Flannery, Shida Kuo at "Qin Ming Qin Zhai 清明琴齋 (Clear & Bright Qin Studio)."

The Meeting:
The second meeting of the New York Qin Society commenced at approximately 3:00 PM. A number of issues of procedure, protocol, and regulation were discussed. Some of these are intended to be formalized into a set of future by- laws.

It was agreed that the formal name of the society would be the " New York Qin Society " or the " Niu Yue Qin She (紐約琴社)."

It was agreed that society dues would be $25 per annum. This is intended to cover outline expenses like mailings. Expenditures for meals, trips, and special events will be paid out of pocket by attending individuals.

It was agreed to meet monthly. Meetings will be at Jung-Ping's apartment for the present. Other members will host as convenience and inclination dictate. The normal meeting location may be changed when attendance exceeds Jung-Ping's collection of chairs.

It was further decided that each meeting will feature one or more presentations by members or invited guests. The range of what constitutes appropriate subject matter for our society was debated. In China, qin associations are typically professional associations of performers. Since our membership and their interests are more diverse, it was decided that, to the greatest extent possible, the focus of our work would be the qin, but that it would be broadened to include " the qin and its culture " (Stephen). That is, it would include the cultural attainments traditionally seen as the proper, even necessary, background of a good qin player.

The guideline for intellectual property rights of each member's presented or distributed material is that the owner of the material will determine the extent and medium of dissemination. In other words, material that is presented or distributed during our activities shall not be further disseminated by members without its owner's permission.

It was decided that membership in the society would be by nomination by two members familiar with a proposed member. If the proposed member knows but one member, they will be introduced to another member for an informal discussion of their interest in joining the society.

It was agreed that, in the future, we may create two tiers of relationship to the society, members and friends or associates. Friends will be those who, while not formal members and without the privileges of routine attendance at meetings and events or the right to participate in decisions on the society's policies and activities, will have access by invitation to selected activities, schedules of events, mail and e-mail notices, and the like. Formal determination and definition of this level of relationship will be deferred until it becomes clearer what our activities, functions, and resources are to become.

Jung-Ping has drawn up a proposed mission statement. He will work with Matthew to prepare an English version for future consideration by the society.

Bo proposed a society excursion to Washington, D. C., in June to view two exhibits: a showing of the Freer Gallery's four qins and a major exhibit from the Warring States period at the Sackler Gallery that will include numerous musical instruments. The prospect met with general acclamation. Members families are invited.

Matthew had a pad of paper and was made secretary.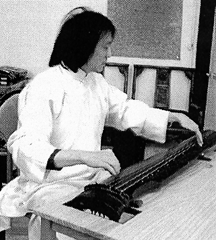 Yuan Jung-Ping Playing Qin Evening Snow, Tolling Bell (雪夜鐘聲).

Jung-Ping performed two qin pieces, "Pu-an Shou" 普庵咒 (" Pu-an's Chant ") and " Mei Hua San Nung" 梅花三弄 ("Three Variations on Plum Blossoms"). His performances were bracketed by conversations about the musical structures of the pieces and interrupted by the occasional phone call. He explained that his interpretation was influenced by the aloof, formal severity of clerical script when playing " Pu-an Jou " and by the graceful, easy twining of cursive script when playing " Mei Hua San Nung, " interpretations that gave these two pieces the variety of a contrasting pair. He further noted that both pieces were broadly shaped by successively confining musical passages to the high, low, and middle registers of the qin.

The meeting concluded about 7 PM. Members with time on their hands and a desire for additional conversation repaired to a local noodle restaurant for discussions of Taiwan politics and Greco-Roman battle gear.

Members: Alex Chao, Stephen Dydo, Matthew Flannery, Shida Kuo, Bo Lawergren, Gopal Sukhu, Yuan Jung-Ping